CreativeSights is a Proud Sponsor of the Joomla! 2013 World Conference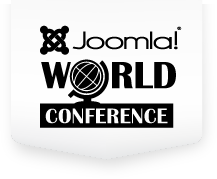 CreativeSights is proud to sponsor the 2013 Joomla World Conference! Check us out on the Joomla magazine here: https://magazine.joomla.org/all-issues/june-2013/joomla-world-conference-2013!
The Joomla World Conference returns for its second consecutive year bringing together the worldwide Joomla community. This year, the conference will be in Boston, Massachusetts from November 8-11. The Joomla World Conference is a place for Joomla experts and enthusiasts to learn, connect, and share. Speakers at this event include Andy Miller and Brian Teeman, co-founders of Joomla!, David Hurley, a founding partner at WebSpark, Ashwin Date, Joomla!'s CTO, Matt Mullenweg, a WordPress co-Founder, and many more!
CreativeSights' very own Andrew Crossan will be traveling out to Harvard University where the Joomla World Conference is being held to learn about the newest capabilities, upgrades, and anything Joomla! related from the speakers and guests at the event. So, if you have a specific Joomla! question that Andrew can bring up at the conference, let us know with our contact form!
For more information about the Joomla! World Conference visit their website by clicking here.